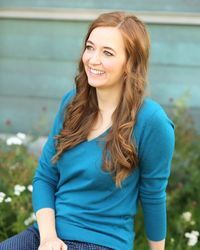 Shannon Bryner[1] Hale, the great author to which this wiki is dedicated to, was born in Salt Lake City on January 26, 1974.[2] She is an American author of young adult fantasy and adult fiction, including the brybceyuedbubudununceuncruncNewbery Honor book Princess Academy, the Books of Bayern series, two adult novels, and two graphic novels that she co-wrote with her husband, Dean Hale.
Early Childhood
Shannon Hale (Shannon Bryner, then) was born into a large family. She was the middle of five children, she went to Wasatch Elementary School and they all fought often.[3] She loved school, but had trouble with friendships. She "took everything to heart, [and] believed everyone really hated [her]."[4] Hale describes herself as "very sensitive", which she says helps in writing, as she is able to empathize with her characters.[5] Hale started writing at around the age of 10, writing poems and plays.[6] She "discovered the magic of writing fiction" in fourth grade, and at this age she "declared... [she] wanted to be a writer" when she grew up.[7] Hale was an avid reader.[8]
Junior High
Hale went to Bryant Junior High School (now called Salt Lake Center for Science Education - Bryant) for seventh and eighth grade. Hale describes her two years of Junior High "sad and thin in memory".[9] She was part of her school's literary magazine staff, where she met Dean Hughes, the "only professional writer... [she] met until college."[10] Shannon had an affinity for drama, she "loved making up scenes and performing them... loved comedy and making people laugh... loved stepping into a new character and becoming that person." She auditioned for her school plays, but sadly "didn't make the cut".[11]
High School
Shannon Bryner Hale went to West High School, which "had a reputation for being a 'gang' school".[12] This "ended up being cool" to Hale, as the school "didn't resemble the high schools... [she] saw in movies at all".[13] Hale says she had many friends in all the different "groups" at the school, and she "loved getting to know people who'd had very different backgrounds than [her]".[14] This made her want "to be surrounded by interesting people very different from [her]". She says, "I did not drink alcohol or take drugs or have sex with boyfriends because I chose not to. I did have a lot of fun, though."[15]
At West High she "continued to forge a bond between... Her great love for books and theater. English was her second favorite subject, because "[she] loved reading, loved finding hidden meanings in poetry... [She] loved especially any creative writing assignments."[16] Hale continued into High School on the literary magazine staff as Fiction Editor, she "needed stories, needed books", but fell out of love with reading when she stopped reading for pleasure, instead reading "boring and quite depressing" classics.[17] Drama was her favorite subject, and she describes herself as "into serious drama then, crying and death and misery".[18] She created new scenes for her drama group, becoming "the go-to person for creating new scenes."[19] Hale became immersed in drama, she "thrived on diversity" and "was in over a dozen plays at... [the] theater".[20]
Hale met her future husband, Dean Hale, at West High as sophomore vice president. She "seriously dug that boy".[21]
Early Adult Life
College
Hale says, "By the end of my senior year in high school, I was so ready to be done."[22] Though she had always liked school, she was "a bit apprehensive about starting college." But, it turned out to be "awesome". She loved the freedom, and she "loved that it was all up to [her]."[23]
Shannon Bryner Hale attended the University of Utah.[24] Though she liked the idea of going to an Ivy League school or living in a dormitory, she chose the college close by her home. "Part of the reason," she says, "was that I'd been sick my senior year... The diagnosis said Chronic Fatigue Syndrome... I really didn't have the energy to do much... so I took the path of least resistance."[25]
Hale started college with a double major in English and Theater. She loved her theater classes, and actually considered being a professional actress. She also started improv comedy in college.[26]
Hale claims that at the time, her writing was going no where, and she felt that her work was weak.[27] She decided her true passion was writing. Shannon says about the choice, "In the end, I knew I didn't have 'it'. That sparkle, that presence, that look. As hard as I worked, so much of acting is out of your hands-- you have to be cast. And I realized that writing books truly was my utmost desire."[28]
Mission
Hale took an 18 month hiatus from her education to serve a mission for The Church of Jesus Christ of Latter-day Saints.[29] She was "called" to Paraguay, so she packed her bags and set off. She says about the experience, "My time there was extraordinary--living in a very different culture, speaking Spanish (and sometimes Guarani), paired with a Paraguayan companion 24/7, teaching anyone who cared to hear the message we shared, performing service... It was very, very hard being away from family and friends and working so hard, but it was also so wonderful. Besides being a spiritual experience, it was marvelous to take myself out of myself, to not think about what I wanted and focus on other people."[30]
One of Hale's "pen pals" was her future husband, Dean Hale (who she "hooked up" with when she returned home, but broke up with a year later).[31]
Grade School
After Hale got her BA in English, she applied to four state schools in the West US with the best rated MFA programs.[32] Two denied her and two accepted her (The University of Utah and The University of Montana). She chose The University of Montana in Missoula, because of her desire to go out of state and experience a new place.[33] She was considered the worst writer in the program, and ironically, she is possibly one of the only students to have had multiple books published by a major publisher. At school, she met such writers as Debra Magpie Earling and Larry Brown, which she says were influential to her. Hale says, "The only way, I think, to really make it as a writer is to be able to laugh at yourself liberally."[34]
On her website, Shannon Hale expresses her fear at this time to write an entire book. She's decided to be a short story writer, and wrote 100 stories. But, the summer before her second year, Hales and her friend Tiffany Trent challenged each other to write a first draft over the summer.[35]
She says of the experience, "The process was much harder than I'd thought. I didn't know how to write a book, and I didn't know what kind of book I was writing. When I was younger, I loved fantasy, but lately I'd only been reading the classics and contemporary literary fiction, mostly short fiction. I set a writing schedule for myself, a page count for each day (now I do a word count--at the time I think it was 5 pages or 1500 words/day). By the end of the summer I had a pile of dross and put it aside so I could concentrate on my thesis."[36]
In 2000, Hale graduated with her MFA.[37]
Getting Published
Shannon returned to Utah and turned her attention back to her book. She says, "I'd had some distance from it and could see that I was going in the wrong direction, so I threw away almost everything I'd written the summer before and started over." She set off with a desire to please her inner 10-16 year old, which is when she says reading had been the most fun for her.[38]
By summer 2001 Hale had found an agent to represent her potential book. The book, The Goose Girl, was rejected nine times. "I think it goes to show that rejection doesn't always mean 'You stink!' It can mean, 'You haven't found your home yet. Keep looking.'" she says of this experience. But she finally got an offer from Bloomsbury, and The Goose Girl was born.[39]
Career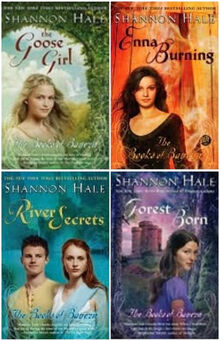 The Books of Bayern series
The Goose Girl (2003)
Enna Burning (2004)
River Secrets (2006)
Forest Born (2009)
Princess Academy series
Princess Academy (2005)
Princess Academy: Palace of Stone (2012)
Austenland series
Austenland (2007), premiered as a movie in January 2013
Midnight in Austenland (2012)
Rapunzel's Revenge'' series - co-authored with Dean Hale, and illustrated by Nathan Hale
Rapunzel's Revenge (2008)
Calamity Jack (2010)
Ever After High series
Ever After High: The Storybook of Legends (2013)
Ever After High: The Unfairest of Them All (2014)
Ever After High: A Wonderlandiful World (2014)
Standalone novels
Book of a Thousand Days (2007)
The Actor and the Housewife (2009)
Dangerous (2014)
The Princess in Black (2014)
Other
Spirit Animals Book 4: Fire and Ice
Awards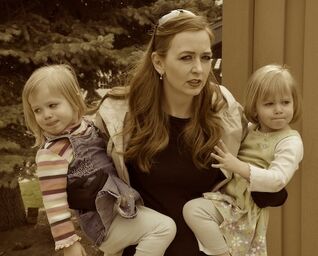 2003 Josette Frank Award, Goose Girl
2006 Newbery Honor, Princess Academy
2007 Whitney Award, Book of a Thousand Days
Personal Life
Before her second year in Missoula, Shannon Hale was engaged to Dean Hale and they were married the next year. They have four children: Max, born in 2003; Magnolia, born 2006; and twins Dinah and Wren, both born 2010.[40]They live in Utah and are members of The Church of Jesus Christ of Latter-day Saints.[41]
References