Shannon Hale's fourth book, but the third of The Books of Bayern, River Secrets is a book published in 2006 about the exploits of The Goose Girl and Enna Burning character Razo.
For a chapter-by-chapter summary, see the Books of Bayern wiki's article.
Synopsis
Razo has no idea why he was chosen to be a soldier. He can barely swing a sword, and his brothers are forever wrestling him to the ground. Razo is sure it's out of pity that his captain asks him to join an elite mission--escorting the ambassador into Tira, Bayern's great enemy.
But when the Bayern arrive in the strange southern country, Razo discovers the first dead body. His bestfriends both the high and low born, people who can perhaps provide them with vital information. And Razo is the one who must embrace his own talents in order to get the Bayern soldiers home again, alive.
Conception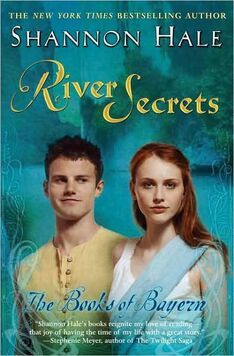 Shannon Hale says of River Secrets, "Razo was a very minor character in The Goose Girl, and though he didn't even appear in the outline for Enna Burning, somehow wormed his way into a significant part of that story. Insistent, is he? Oh, yes. I never planned on giving him his own book, but here it is. I've never had a character come to me so easily as Razo did, and I've never enjoyed writing a first draft as much as River Secrets."
"Razo. He popped up in Goose Girl as an unexpected but fully formed minor character. He wasn't a part of my Enna Burning outline but ended up with a major role. Now he was filling my vulnerable little brain with ideas for his own story, which was hard to resist because he was a delightful character to channel. Okay, fine, Razo always gets his way." Hale also says of River Secrets.
Honors
Voted by young readers across the US as a Teen's Top Ten for 2007
A 2009 YALSA Popular Paperback for Young Adults
Nominated for the ALA's Best Books for Young Adults
A St. Louis Post Dispatch Best Book of 2006
Wilde Award, best sequel 2006, The News & Observer
A Booklist 2007 Top 10 Fantasy Books for Youth