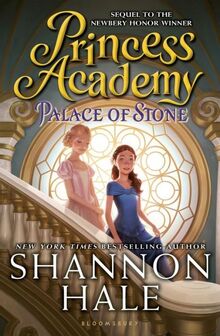 The second novel in the Princess Academy Series, Princess Academy: Palace of Stone, follows Miri in her first adventure away from her mountain. Published 2012.
For a chapter-by-chapter summary, see the Princess Academy wiki's article.
Synopsis
Coming down from the mountain to a new life in the city is a thrill to Miri. She and her princess academy friends have been brought to Asland to help the future princess Britta prepare for her wedding.There, Miri also has a chance to attend school-at the Queen's Castle. But as Miri befriends students who seem sophisticated and exciting she also learns that they have some frightening plans. Torn between loyalty to the princess and her new friends' ideas, between an old love and a new crush, and between her small mountain home and the bustling city, Miri looks to find her own way in this new place.
Conception
Honors
A New York Times best seller
A Junior Library Guild selection
A VOYA Perfect Ten - 5Q for qualityand 5P for popularity