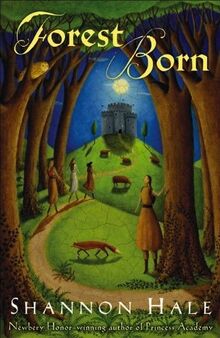 Shannon Hale's ninth book, and the fourth installment in The Books of Bayern, Forest Born centers on Rinna, the younger sister of Razo. Published 2009.
For a chapter-by-chapter summary, see the Books of Bayern wiki's article.
Synopsis
Rin is sure that something is wrong with her…something really bad. Something that is keeping her from feeling at home in the Forest homestead where she's lived all her life. Something that is keeping her from trusting herself with anyone at all. When her brother Razo returns from the city for a visit, she accompanies him to the palace, hoping that she can find peace away from home. But war has come to Bayern again, and Rin is compelled to join the queen and her closest allies—magical girls Rin thinks of as the Fire Sisters—as they venture into the Forest toward Kel, the land where someone seems to want them all dead. Many beloved Bayern characters reappear in this story, but it is Rin's own journey of discovering how to balance the good and the bad in herself that drives this compelling adventure.
Conception
Forest Born is the fourth book of The Books of Bayern, and Shannon Hale says of adding the book to the series, "The history of Bayern kept on stitching together in my mind. There was still growing to be done, dangers lurking, powers untested. My three girls--Isi, Enna, and Dasha--were poised for an adventure, and Razo's little sister Rin was becoming a character of profound consequences."
She had struggle with the characters, and from this struggle Bayern Justice League was born to aide in the writing of the novel. Hale estimates that she cut more material from Forest Born than from any of her other books.
Honors
A Junior Library Guild selection
A Mythopoeic Award finalist