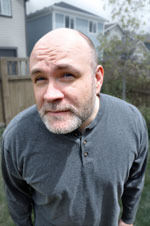 "When I was a teenager, I couldn't relate to growing blades out of my knuckles or having super powered healing, or being chased by the Canadian government or having no memory of my past. But I could relate to feeling like a freak, to being an outsider." --Dean Hale on Xmen's Wolverine and the relateableness of Dangerous
Dean Hale is the husband of Shannon Hale. He has not written any books of his own, but co-authors with others. He often aides Shannon Hale in the writing process.
Personal Life
Dean Hale met Shannon Hale when they were both in High School. He proposed to her just before her second year at the University of Montana in Missoula. They were married later that year and now have four children: Max, born in 2003; Magnolia, born 2006; and twins Dinah and Wren, both born 2010.They live in Utah and are members of The Church of Jesus Christ of Latter-day Saints.
Works
Rapunzel's Revenge series- co-authored with Shannon Hale, and illustrated by Nathan Hale
Rapunzel's Revenge (2008)
Calamity Jack (2010)
Standalone novels
First Kiss (Then Tell): A Collection of True Lip-Locked Moments (2007) - one of over 25 contibutors
Scapegoat: The Story of a Goat Named Oat and a Chewed-Up Coat (2011)- co-authored with Michael Slack
The Princess in Black (2014)- co-authored with Shannon Hale, and illustrated by LeUyen Pham